Kings Mountain High School


Class Of 1978
In Memory
Eddys Ware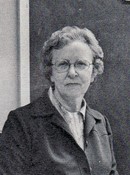 Died May 12, 2007

KINGS MOUNTAIN — Mrs. Eddys Latham Ware, 92, of Summit Place, died Saturday, May 12, 2007, at Carolinas Medical Center in Charlotte from injuries sustained in a motor vehicle accident.

Born in York County, S.C., to the late Walter Ross and Iva Gettys Latham, she was a graduate of York High School and Erskine College, Due West, S.C. She taught school in Saluda and York counties, S.C., and in Cleveland County. She retired from Kings Mountain High School in 1981 and was a former member of local, state and national teacher organizations and the Beta Chi Chapter of Alpha Delta Kappa, an international honorary society for women educators. She was a member of Boyce Memorial ARP Church, Kings Mountain, where she taught for many years in the youth department. She was a former teacher of the Katherine Dale Bible Class and member of the church choir.

In addition to her parents, she was preceded in death by her husband, Franklin Luther Ware Jr., and four brothers, Clyde Latham, Boyd Latham, Earle Latham and Brice Latham.

She is survived by two sons, Melvin Ware and wife Janet, of Blacksburg, S.C., and Edwin Ware and wife Carol, of Morganton; a daughter, Marcia Ware Brinkley and husband Jake of Lawrenceville, Ga.; five grandchildren, Brian Ware and wife Brandi of Kings Mountain, Susan W. Anderson and husband Kell of Barnwell, S.C., Kimberly W. Ellis and husband David of Mooresville, Kenneth Ware of Decatur, Ga., and Karen Brinkley of Lawrenceville; and six great-grandchildren, Hannah Ellis, Cameron Ellis, Nathan Anderson, Aidan Anderson, William Anderson and Mackenzie Ware.