Kings Mountain High School


Class Of 1978
In Memory
Myrle McClure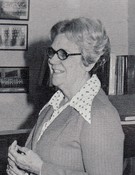 Myrle Hubbard McClure, age 89, passed away on July 18, 2004 in Houston, TX. She was born at Barney Mines, Alabama on November 22,1914, daughter of the late Maynard G. and Mable Nutt Hubbard, wife of Joseph Newton McClure. She earned a Bachelor of Music Education degree from Oberlin Conservatory, both in Ohio.
She taught choral music in Middlesboro, Kentucky; in Sweetwater, Tennessee; and in Kings Mountain schools, retiring in 1977. She also served as organist at Central United Methodist Church in Kings Mountain for 38 years. In a retirement apartment in Williamsburg, VA she served two terms as president of the residents' council and accompanied monthly sing-alongs. At her last residence in Missouri City, Texas, she founded a bridge club in her community and continued her service through music by supporting the Friends of the Arts a her church and accompanying weekly sing-alongs at a senior daycare center.
Survivors: Daughters; Nancy McClure, Virginia Beach, Va. and Joan McClure and husband James Ball, Missouri City, Texas.