Kings Mountain High School


Class Of 1978
In Memory
Myers Thomas Hambright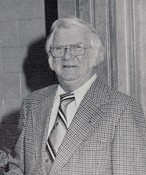 Died December 26, 1987

KINGS MOUNTAIN — Mr. Myers Hambright, 72, of Shelby Road, died December 26, 1987, at his home in Kings Mountain.

Born in Cherokee County, SC, he taught school and was the retired Diretor of Vocational Education at Kings Mountain High School.

He is survived by his wife, Carolyn Westbrook Hambright and three children: Myers Hambright, Jr. of Shelby, Sarah Edith Hambright of Atlanta, GA, and Mary Elizabeth Dover of Asheville, NC. He is also survived by two siblings; Fred Hambright of Rock Hil, SC and Sarah West of Irvington, VA.
Myers was a member of First Presbyterian Church, a charter member of Bethware Progressive Club, and served in the US Navy during WWII.