Kings Mountain High School


Class Of 1978
In Memory
Sue Moss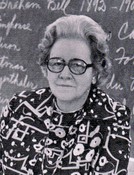 Died May 12, 2007

RALEIGH — Mae Sue Hord Moss, 94, of Brighton Gardens Assisted Living Home in Raleigh since 2003, formerly of Kings Mountain, died peacefully on Saturday, May 12, 2007, at her residence.

Mrs. Moss was born in Kings Mountain to the late David Fletcher Hord Sr. and the late Fannie Spake Hord. In addition to her parents, she was preceded in death by her dear husband, George Wingfield Moss who died in 1984; her sister, Sara Nell Hord Fulton; and a brother, Dr. D.F. Hord Jr.

She graduated from Meredith College with a Bachelor of Arts degree in English in 1933. She taught at Bethware School and Kings Mountain High School for more than 36 years. She was a member of the North Carolina Association of Educators and the Retired Teachers Association of Cleveland County. She was a member of First Presbyterian Church of Kings Mountain, where she was an active member of Circle No. 1. She was a member of the GFWC-NC Kings Mountain Women's Club where she has been a member for more than 50 years and designated as an honorary member. She received the Distinguished Service Award from the club in 2000. She was past president of the Town and Country Garden Club and an active member for many years of the Home Arts Club. She loved a good game of Bridge and was a member of several Bridge clubs.

Surviving are three daughters, Susan Lee Moss Grigg of Raleigh and husband, G. Glenn Grigg Jr., formerly of Kings Mountain, George Ann Moss Marston, who has made her home in LaJolla, Calif., since 1969, and Sara Nell Moss Wright of Cary who is a career librarian; five grandchildren, David Grigg of Burlington, George Grigg of Cary, Laura Grigg Powell of Edenton, Sara Grigg Brame of New Bern and James Lindsay Wright of Atlanta; five great-grandchildren; sister-in-law, Eloine Keeter Hord of Kings Mountain; and several nieces, nephews and cousins.