Kings Mountain High School


Class Of 1978
In Memory
Jeff Putnam VIEW PROFILE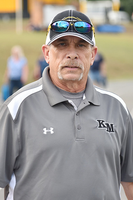 Jeffrey Scott Putnam, age 57, resident Kings Mountain, NC. After a courageous battle with renal cancer, Jeff passed away peacefully at his home. Born in Gaston County, he was the son of the late Lawrence Edward Putnam and Connie Goins Putnam. He was also preceded in death by a brother, Daryl Putnam. He coached in Kings Mountain for over 30 years. He was also member of Eastside Baptist Church. Jeff was loved by many.
SURVIVORS: Wife: Sharon Foster Putnam Sons: Tanner Putnam and John Taylor "JT" Putnam Sister: Donna P. Butler
Memorial /Visitation: Monday, February 6, 6:00pm, Kings Mountain High School Barnes Auditorium
From the Herald:
There has never been a more appropriate personalized license plate than the one on Jeff Putnam's truck:
KM COACH.

After God and family, coaching was the most important thing for the man who spent much of his 57 years loving the town of Kings Mountain and Mountaineer football.

From the first time he was introduced to coaching with the Kings Mountain Optimist Club Pop Warner teams, that's all he ever wanted to do.

He made a tremendous impact on the lives of hundreds – if not thousands – of young people in over 15 years in what he called "The Hole" at Shu Carlton Stadium and the last 11 years on the high school level.

Putnam died Friday after battling renal cancer since last August. His memorial service was held Monday night at Barnes Auditorium on the campus of Kings Mountain High School.

Philip Putnam, though not related to Jeff Putnam at the time, recalled when the latter got his coaching start in the Hole. Philip had just left the program himself.

"Sharon (Jeff's wife) was the cheerleader coach," he said. "Jeff also got involved with Dixie Youth baseball. Jeff was an excellent coach. The kids liked him because he would get down to their level. He was always encouraging them. He was always saying 'atta baby,' especially when they did something good."

Philip and Jeff later became related when Philip married Sharon's mother, Vivian. Philip refers to Jeff as his "stepson-in-law."

"I told Greg Lloyd he would have to look far and wide to replace Jeff," Philip said. "When Greg came to Kings Mountain he saw how multi-talented Jeff was. His love for the game was unreal. Coaching high school football was his main goal in life."

After basically running the Optimist Club program as club president and coach, Putnam coached two years at Hope Christian Academy before joining the KMHS staff. He recently completed nine years with the Mountaineers.

Head coach Greg Lloyd recalled his first meeting with Putnam, who was affectionately known as "Coach Put" by players and coaches.

"He just came up and introduced himself," noted Lloyd. "His son J.T. was playing for us and Jeff said he was interested in coaching. We had a spot open and he seemed like a go-getter, so we hired him. It was as good a decision as I've ever made. He made a big difference in our program."

Putnam coached several defensive positions for the Mountaineers, including the line and defensive ends, but his greatest love was linebackers which he coached the past several seasons.

"Inside linebacker was his passion," Lloyd said. "That's where his sons played."

Putnam was not a member of the KMHS faculty, but Lloyd said he was totally involved with the football program and school.

"He just didn't show up for practice and games," Lloyd said. "He was around 12 months a year. He would work with us in the weight room, and go to coaching clinics. He was just always around.

"He had a knack of making people feel good. He was dependable. There wasn't a task that he wouldn't take on. He did whatever he could to help the boys."

For the past several years, Putnam substitute-taught, not just in the weight room or P.E. but in core subjects.

"He was a mainstay in the building up until the point he got sick," noted Athletic Director Mark Latham. "I'd say the last three or four years he was in the building every day. He was one of the first persons teachers would call to substitute. He had a unique bond with the faculty and the kids.

"Replacing Put as a coach and teacher will be an impossible task," Latham added. "We're losing a friend with a lot of knowledge about everyday circumstances. You cannot replace a friend."

All of the coaches at KMHS were amazed at how multi-talented Coach Putnam was. He was an exceptional singer and guitar player. Often, after practice he would take out his guitar and he and the coaches, especially Coach Lloyd, would sing in the field house.

"He never had a guitar lesson," Latham noted. "Coach Lloyd loves old folk music. Jeff would call up the songs on the internet and in 10 minutes could learn to play it. It was always interesting to watch him."

Latham said Putnam's prior experience as a city building inspector and contractor was a tremendous asset to the school.

The past two years Putnam coached the throwers for KMHS track coaches Rayvis Key and Haley Spearman. Although Putnam did not have prior track experience, the coaches found out quickly they had made a good choice.

"They turned it over to him, and never had to worry about it," Latham said. "He ran that part of the program."

Although helping teams win games is very important and very exciting, Putnam, along with Spearman, Latham and former athletic trainer Alan Ridenhour made their greatest contribution to Kings Mountain in 2015 when they saved a young middle school student's life at the Gamble Stadium track.

The youngster collapsed. The four teacher/coaches quickly went to his aid. Putnam and Latham gave him CPR while Spearman kept track of his pulse until Ridenhour arrived with a defibrillator.

"Jeff didn't hesitate to jump in and help," Latham noted.

All four received Cleveland County Schools' first-ever Dr. Jack Hamrick Award of Honor and Service.

"Coaching was a way of life for Jeff Putnam," Coach Spearman said. "He lived Kings Mountain athletics. As a member of the football and track and field programs, Coach Put influenced many lives with his upbeat, fun-loving style and of course, his memorable phrases, most notably his signature phrase, 'atta baby.' Coach Put was more than a coach, he was a friend to everyone he met, a source of unconditional love, and the number one fan of our student athletes.

"By the time Coach Put joined our staff, he had already established his position as a staple in the community, as well as an integral part of the KM football program. Although I only had the honor of coaching alongside Coach Put for two short seasons, I have known him since I was in high school. He was always the same – constant, tough, funny, encouraging, and most of all, loving. He was a life-changing influence on all of those who had the honor of calling him Coach Put. I hope that one day, I can look back on a lifetime of teaching and coaching and know that I was able to make even half of the impact that Coach Putnam made on me and hundreds, if not thousands, of lives he has touched.

"As the 2017 season begins, my promise to Coach Put is this: I will be sure to let my students know that they are loved and encourage them every chance that I get. I will take on the roles as toughest critic and number one fan. Moving forward, I will miss Coach Put's company, his friendship, his support, his words of encouragement, and most importantly, his love."

Back to the license plate: Coach Latham said it tells the whole story about Putnam.

"Absolutely," Latham said. "That just goes to show you how much he truly loved to coach and truly loved the kids at Kings Mountain High School. He was so proud when Coach Lloyd hired him. He cherished it and wanted everyone to know it."
Click here to see Jeff's last Profile entry.